Now it's time to write about Amazing B22. (Actually I should have done this two days ago...oh)
No one could have ever expected life with flatmates could be so wonderful!
I still remember the moment when Inge and I opened the door, and Akiko and Sakuya came out to say hello.
Now I would like to introduce my B22 family members :)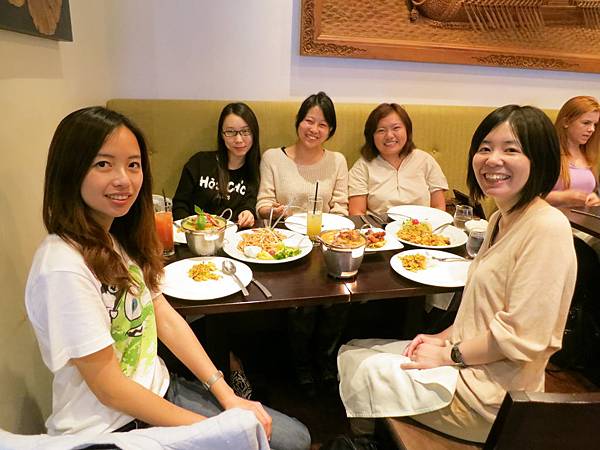 (from left: me, Teresa, Sakuya, Inge, Akiko )
Inge is an amazing cooking master!!!
I cannot describe how surprised I was everytime she cooked something with 100% Taiwanese taste!!!
(Yes. Inge cooked Taiwnese cuisines everyday but still EVERYTIME I was so surprised and excited!)
We were all inspired by Inge's cooking and passion to foods and quality of life! (Director of B22!)
Inge started her little farm in B22...and some of us started to grow something in our rooms!( I grew cabbages haha)
I really like Inge's ideas about her major and future business!
A cute, caring, generous girl with clear career ambitions! I admire you so much!!
But also Inge is the top 1 dangerous person here... 'Cause she is just so cute that often we would burst into laughters by her unpredicable doings! ( It's indeed risky when you were about to eat or drink something...)
Although we struggled from swallowing food/water safely, yet everyday we loved Inge more!
Inge, I like your big smile the most!!
I got energy from your smile!
By the way, Inge's playing guitar and singing were so gentle! 優しい!
Wanna see more~~~~~
Sakuya is my super idol!!! Can't admire more!!!
We share almost the same interests! We love music! We love singing! We love picnic! We love chips! We love icecream!!
Ever since I bought an ukulele and Sakuya got her guitar, B22 was full of joyful music!
Sakuya got talents at music!!! I really enjoyed her playing guitar!!
So far we've done several songs together! Cup song! I'll think of you!
My forever music partner!!
And somehow I felt that Sakuya is just like my little sister. I don't have sisters in Taiwan but now I got a sister in UK! Yeah!
Though we cannot play songs as often as we did in B22, yet still we can give each other a call whenever we feel like going picnic, enjoy sunshine and music with guitar and ukulele!
Akiko~~~Like the name! Definitely a bright child!!
Akiko has lots of dramatic and interesting TRUE stories happening in her life! (really, a bright child with advantures)
And I am so grateful to hear her sharing them!
I really really really enjoyed talking with Akiko!!
No matter love romances, gossips, or even histories, politics, economics we could share our ideas without hesitation!
By the way, it's my little trick. I like to say short Japanese SUDDENLY to surprise (or shock) Akiko and Sakuya. And most of the time I got them!! hehe
Akiko really works hard on study and make record of daily life! I've always enjoyed reading her posts! Such a good narrative writer!
I do look forward someday Akiko will publish her autobiography and B22's stories! My parts so far counts two extremely SHORT chapters...it's gonna be so difficult for Akiko hahaha
By the way, Akiko studies in Translation
! My dream job!! I love her selection of words!(admire, admire)
Teresa studies in Accounting and finance! Clever and clear brain!! ( I can never handle finance in my life..)
I admire Teresa's beauty and dressing style so much! Simple but stylish!!
Teresa is also a laughing bump in B22!!! Just too cute!! Naturally!
TOO DANGEROUS when Inge and Teresa show up at the same time! Somehow suddenly Akiko, Sakuya and I could do nothing but just suffer from laughing!
And Teresa also got talents at cooking!! I missed out the dumplings!!!pity!!!!!
B22 is always full of joys because of these cute girls!
Things happened naturally in B22.
It seemed that we didn't even need to compromise or nigociate anything! It was just so natural! Like we have known each other for a long time.
Public wallet, improving the shower room, B22 pen bag, night tea, picnic, having thai food, and cooking parties!
2 days before moving out, we gathered in kitchen to recall what had happened in B22.
It proves that we really enjoyed every moment during these six weeks!
Everyday laughters filled in B22's kitchen.
I do thank God to arrange me in B22 and meet such nice people.
The postcard from Akiko and Sakuya is gonna be my treasure! It will encourage me when I am down.
At the last night in B22, Sakuya and I together made a video for B22 ( again, so natually we did it).
And the most important things, precious memories
Even though we have moved in new accommodation already, I know we are still connected to each other :)
Just like the cup song
" You're gonna miss me when I'm gone"
and I'll think of you
"As no matter where we are, I' will keep you in my heart and I'll think of you as I go"
We all know that this is just the first chapter in our UK life.
And thank you girls for making my start in UK so fantastic and fabulous!!
Like Akiko has said, we look forward to the our growth in the following year.
This is not the end. This is the beginning. :)
My favorite pic of B22. It was the first time we had our night tea! With perfect lights, color, tea, dessert and GIRLS!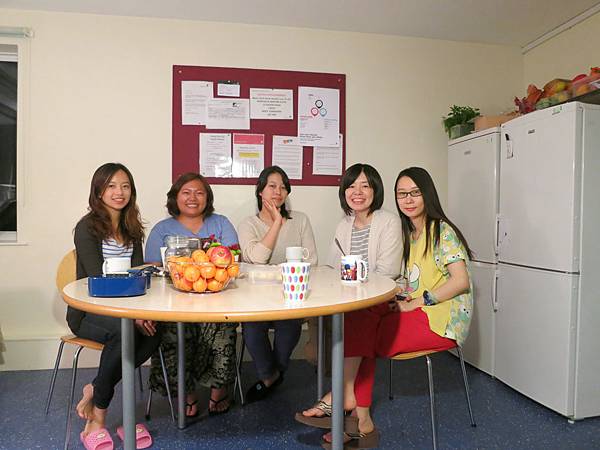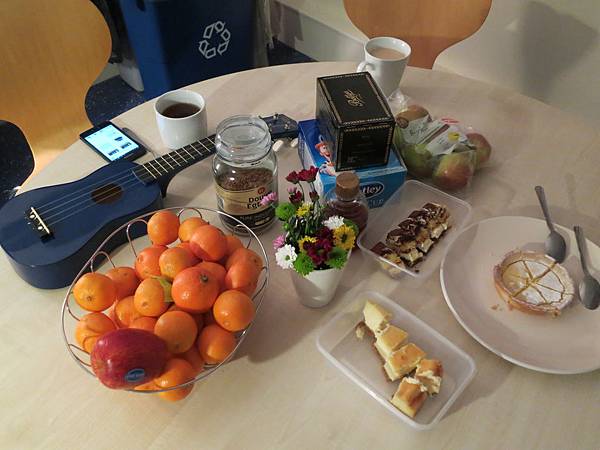 I love you B22!